New features of V3.0.2
1.Optimized Customer Moments
You can publish articles of brand promotion and sale promotion to Customer Moments, and also add store locations.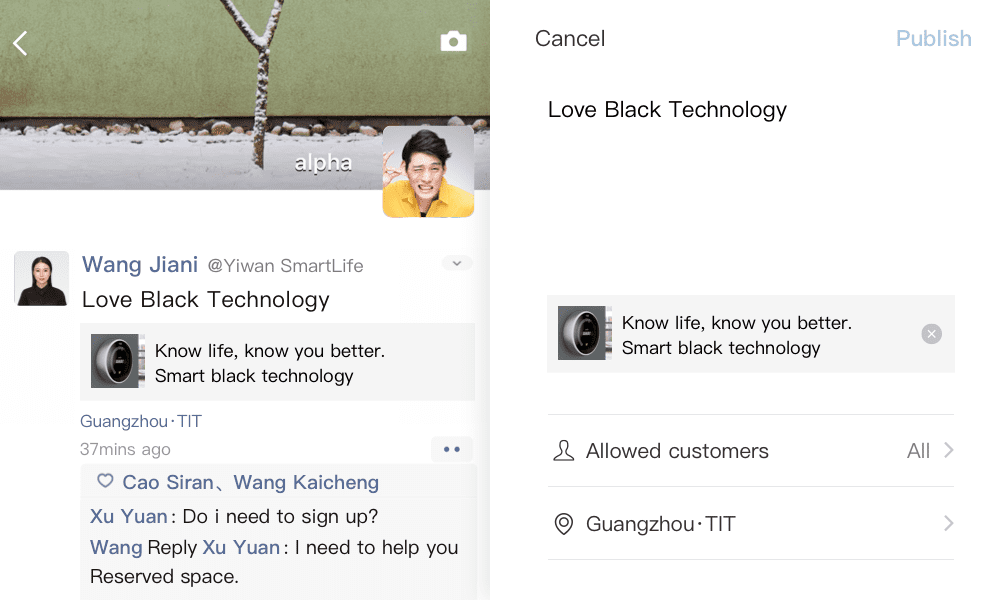 2.Optimized Event
Share calendars with team members or colleagues for easy sharing of project plans, work schedules, or scheduling meetings with me.
You can add calendar accounts based on Exchange and CalDAV standard protocols to centrally manage your events in WeChat Work.
3.Optimized WeDoc
You can create a WeDoc file from template.
The search feature is added, which can be used to quickly filter docs in WeDoc.
4.Optimized WeDrive
File permission management is added. You can set to allow only designated personnel to download important files, while others need to apply for permissions.
File upload notification is added for you to get informed of file changes in the space.
5.Add new graphic message type. Text and picture can be aggregated into one message to send, describing work content more clearly.
6.When filling in the report information in iOS/android, you can choose to send to the group chat at the same time.
7.Optimized Approvals
The 「Formula」 control is added. Admins can set calculation formulas for the amount and number controls in forms, and the results will be automatically calculated after applicants enter required data.
Admins can set the 「Link Applications」 control in the admin console, so that applicants can link other applications as auxiliary proofs when filling out an application.
Admins can set the view permission to approval application details: visible to company members or only visible to approval-related personnel.
Admins can set automatic sum of amounts and numbers in the approval details.
8.The PC version supports opening Mini Programs and receiving Mini Program notifications.
9.When setting the view permission to Contacts, admins can allow searching for other members to facilitate cross-department communication.
10.You can easily add the mobile number, company name and other information in a request to this contact's information.